Volume: 100 ml/3.4 Fl. oz.
Nanoil hair oils are innovation the haircare market needed. Nanoil for low porosity hair is an answer to all hair needs. It provides protection, facilitates styling, speeds up drying, takes care of the scalp. It's possible due to perfectly chosen ingredients that match hair porosity of straight and dull hair. Its structure is tight, so only small Nanoil hair oil's particles can penetrate inner layers. That is the only product with a feather-light formula that allows hair gain volume and restore vitality.
Nanoil for low porosity hair – one of three oils in the collection (right next to Nanoil for medium porosity hair and Nanoil for high porosity hair). What should you know about this cosmetic?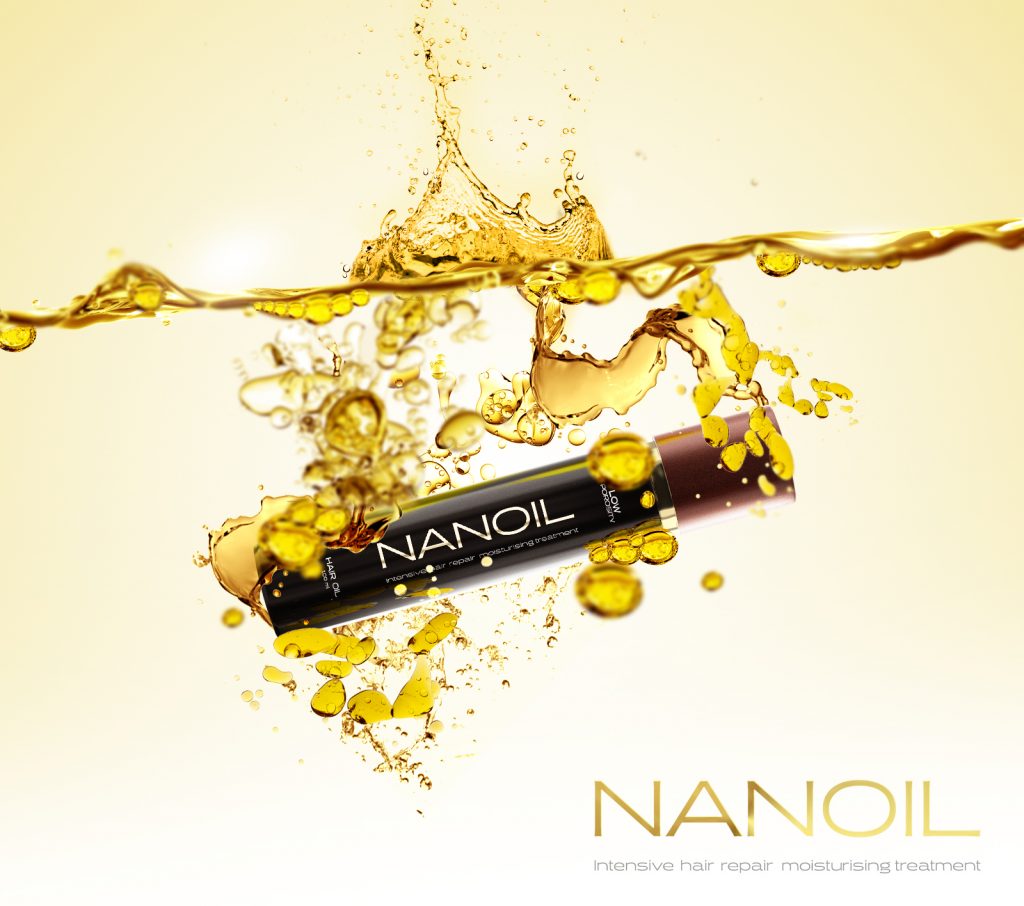 Composition analysis
This cosmetic's composition can be described in two words: rich and natural. Its action is based on nine natural oils and was enhanced with additional six nourishing substances. Right here it turns out that price of Nanoil for low porosity hair in not too over the top after all because no other product contains so many natural oils. Nanoil hair oil's composition consists of Theobroma Grandiflorum Seed Butter, Butyrospermum Parkii Butter, Argania Spinosa Kernel Oil, Orbignya Cohune Seed Oil, Pinus Sibirica Nut Oil, Cocos Nucifera Oil, Tiare Flower Extract, Ricinus Communis Seed Oil, Passiflora Edulis Seed Oil. All of the ingredients are natural kinds of butter and vegetable oils, among many one flower macerate.
Cupuacu butter has a beneficial impact on hair elasticity. Shea butter prevents excess water loss. Argan oil provides heat protection. Babassu oil facilitates combing and styling without causing weighting down. Siberian pine oil is a remedy to sensitive hair fibre and ensures gloss. Monoi oil protects against unfavourable factors. However, passion fruit oil inhibits ageing processes on the scalp and hair.
Nonetheless, that is still not all hidden within the Nanoil for low porosity hair. Its action was expanded with few additional properties provided by active substances, such as vitamin E, vitamin A, Panthenol, UV filter and two new substances – kerastim and baicapil. These are the one responsible for the elimination of free radicals, stimulate hair growth, prevent increased hair loss, strengthening of hair bulbs and protection against the sun.
Formula description
The wide and very convenient pump allows you precise dosage of Nanoil for low porosity hair. Application of 1 to 3 pumps is enough to cover hair on its entire length and perform scalp massage. The light and delicate formula is absorbed by hair moments after its application, even if applied in an excess amount. Although, moderation is highly advised because you do not need this much of the product to observe effects, which will be beyond your wildest expectations. Nanoil hair oil delights with delicate and fresh fragrance.
Method of use
The manufacturer did not precisely determine application methods. A natural composition made of nourishing substances allows your discretion in this area. Nanoil hair oil works on hair better than any other oil based product because it is entirely natural. Nanoil for low porosity hair is suitable both for hair and scalp oiling. You can use it on damp (for more intense action) or dry hair. You will find it helpful for hot oil treatment or as a replacement for styling cosmetics. It preserves hair style and provides hair with an opulent gloss when applied in small amounts during the day.
more information: https://nanoil.us/low-porosity